Welcome to Montana Saves
All across America, people just like you are proving that building wealth isn't just for the rich. Members of America Saves are reducing their debts and increasing their savings to reach financial goals. Montana Saves will connect you to tips, tools and resources to help you set and achieve your goals. Take the first step by enrolling in Montana Saves today!
Featured Article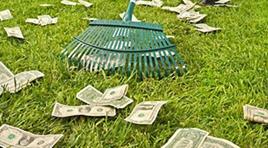 Personal Finance Tips for Spring
Spring is great time of year to take a fresh look at your finances to see if any spring cleaning is needed.  Here are few simple rules to follow that can help ensure that your personal finances are ready to bloom this summer.
To learn more click here...

Past Articles
To view past articles, click here...
Do you have a financial question?
Personal Finance experts from Cooperative Extension can provide you with information at resources. Visit the eXtension website today.
Contact Us
Montana Saves
Campaign Coordinater
Joel Schumacher
MSU Extension
P.O. Box 172800
Bozeman, MT 59717-2800
jschumacher@montana.edu
Resources for Savers
MSU Extension Grab and Go Programs:

Choose to Save

www.choosetosave.org